Hi bakers,
I'm happy I finally wrapped up and executed a plan to make a HUGE step in my CBAT and I would like to share it.
On the video below I show how to go from ~100 quindecillion (QDc) to ~
35 sexdecillion
(SDc) cookies in a one-minute setting. With a regular CPS of ~64 duodecillion, it is equivalent to ~
16.000 years of idle game
.
It involves a lot of preparation, a strategy and a good execution. Below I describe the steps I followed.
But first, definitions:
- HOF = (force the) hand of fate: the spell that trigger a golden or wrath cookie
- CF = click frenzy: click *777
- BF = building frenzy: a random building type is chosen, then CPS*n for ~1min, where n is 0.1*number of owned buildings of that type. Different BF stack up, twice the same do not.
- WT = wizard towers
- Godzamok: buff up your clicks for few seconds when selling buildings; very efficient combined with CF!
- Mokalsium: boost CPS
- Jeremy: boost CPS
- Holobore: boost CPS
- Cyclius: boost CPS from -15% to +15%
1) Preparation
- get as many mature duketaters as possible (here 17) and freeze the garden until it's time to harvest
- advance HOF RNG until a good configuration. Since all spells share the same RNG, you can know the output of numerous incoming HOF by casting a cheap spell (e.g. Haggler's charm) multiple times (+ refilling) and reset. I got a neat sequence of frenzy/BF/CF/BF.
2) Strategy
1. buffing up CPS
- wait for a natural BF (here Grandmas, CPS*71.1)
- switch on golden switch, save (my recording starts here)
- cast 1st HOF (frenzy, CPS*7), sell enough WT to buy cast 2nd HOF (random BF, here from alchemy labs, CPS*53)
- buy 500 WT, refill magic meter, cast 3rd HOF (CF, click*777), sell enough WT to cast 4th HOF (random BF, here from cursors, CPS *74)
2. the big cookie
- have pantheon optimal for clicking the big cookie: Godzamok / Mokalsium / Jeremy
- sell as many buildings as possible to get benefits from Godzamok, but beware of reducing the overall CPS. My strategy is to sell all farms, mines, factories, banks and shipments.
- spam-click the big cookie until Godzamok buff expires
- re-buy and re-sell building asap
- spam-click again until CF expires
3. harvesting
- re-buy sold buildings to get CPS back
- change pantheon to have max CPS: Mokalsium / Holobore / Jeremy
- trigger cookie veil (CPS*1.5)
- harvest all mature duketaters
- unfreeze the garden, maybe some duketaters will get mature; if so, harvest them as well
3) Execution
- well, do it and do it again until no mistake is made and BFs are good enough
- the 4th HOF must be cast with no cookie on screen, otherwise it triggers a wrath (and negative) cookie
To get more cookies, I could have:
- saved sugar frenzy (CPS *3) for this occasion :(
- prepared more mature duketaters (17 is good but 20 is reachable. More is pretty unlikely.)
- optimized the number of buildings (for BF) and optimized bought/sold buildings (for Godzamok). Note that buying/selling more takes more time. Buying/selling 500/600 was not far from optimal though.
- grinded until I get the BF from the 3 best buildings (cursors, grandmas, farms). Grandmas' was already save, so each attempt had 1/256 chance of succeeding (16 buildings, 2 remaining BF).
- clicked faster
- replaced Jeremy with Cyclius (CPS boost from -15% to +15%) and played during the right time of the day
- waited for a sequence of BF/BF/BF/CF from HOF + natural BF, but it is extremely unlikely to get 3 BF in a row.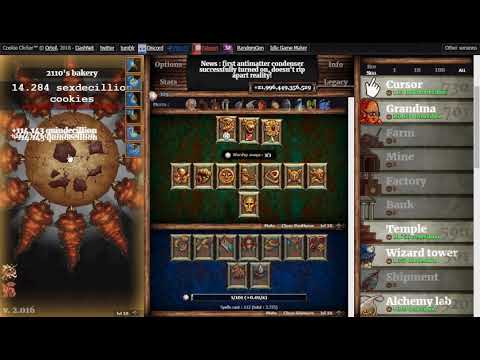 Does the universe have a temporal end? Either yes or no, the answer is absolutely frightening...