Or, one in the same universe, that is. (Life is Strange 2 is coming but later.)
And it's . . .
It's . . . ?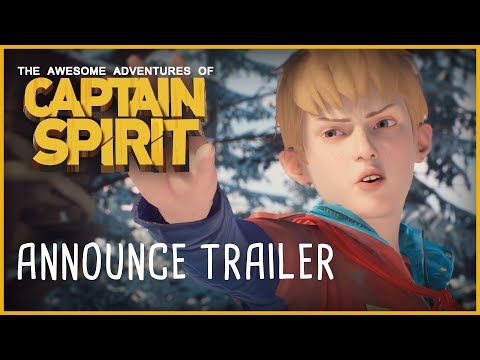 Captain Spirit?
Alright. So, we're playing as a child again. And here I thought Farewell would be the last time. But we're playing as a child again.
First game? Time-travel-themed story with mature themes inbound. Second game? Less time travel, more edge and more obvious lesbians. Third game? Literally a kid with a big imagination and a superhero interest.
I'm gonna go over everything that I can see.
First, trailer.
Father looks weirdly like Frank. Keep an eye out for bean cans when the game comes out, that way we'll know. He's also a drinker, and it seems like the kid disapproves, but he's overall a pretty cool dude. I heard some people thinking that he might be abusive, but from what I can tell, seems unlikely. (I hope to god he's not. Life is Strange universe covers heavy topics, but I've only seen the announcement trailer and I already wish to protect tha child. DO NOT TOUCH-A THA CHILD.)
The kid himself . . . Seems relatively normal, other than the fact that he seems to have easy access to firecrackers. What is it with kids in Life is Strange universe games and having access to small explosives? (Chloe also had a firecracker in Farewell.) I like him, honestly. Protect the child.
Aaand, he appears to get into a car. Bet you 20 bucks he accidentally starts it.
Okay, watching this, I'm not 100% sure where the angst comes in. Where's the sadness? You know it's coming. It's a Life is Fucking Strange game.
Kid's mom is dead, but it presumably happened a while ago. Wouldn't be a Life is Strange universes game without a dead parent involved in the story somehow, only for there to be more bad shit going on in the plot proper.
And, the game is going to be 100% free. It's the
least
they could do after Before the Storm Episode 3.
Steam announcement page doesn't say much, but I'll go over it anyway.
And, the steam announcement page says that "on this particular Saturday something truly extraordinary will happen to him..." My guess is, this is where we start seeing more supernatural abilities start to spring up outside of Arcadia Bay. (The game takes place after the storm, from what I can tell, so probably outside of the Bay.) While there isn't much basis for this theory, my best guess is that it's going to have something to do with the child's imagination - it is, after all, a main focus in the announcement trailer. Maybe some form of reality bending based around his imagination?
Maybe that's how he gets the firecracker
It also confirms a link to Life is Strange 2, but doesn't specify on what that link entails. Gonna be fun having no idea what that link is until Life is Strange 2 is done and I already know all the things that it's hinting at.
Not sure what else to say about this right now, but then again, it's literally midnight. You guys drop your replies and I'll probably respond to them at some point.
Or you could not do that I'm not your boss.

If I was I would totally force you to actually respond to my shit though.