Howdy, Stranger!
It looks like you're new here. If you want to get involved, click one of these buttons!
Quick Links
Categories
7.8K

General

5.7K

Cookie Clicker

137

Legacy

1.2K

Idle Game Maker

369

RandomGen

43

Nested
Please read the forum rules before posting.



Check if you are posting in the correct category.



The Off Topic section is not meant for discussing Cookie Clicker.
Take the Political Spectrum quiz and post your results!
http://www.gotoquiz.com/politics/political-spectrum-quiz.html
My own results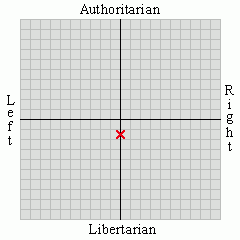 Although a quick look at the gathered statistics shows that I'm actually further right than average, no surprise there lol. I'm pretty sure that my very strong opinions on abortion kept me from being considered further libertarian.

I'm more than a bit shocked to find out that I was genuinely more non interventionalist than average.

Nothing to comment on here.