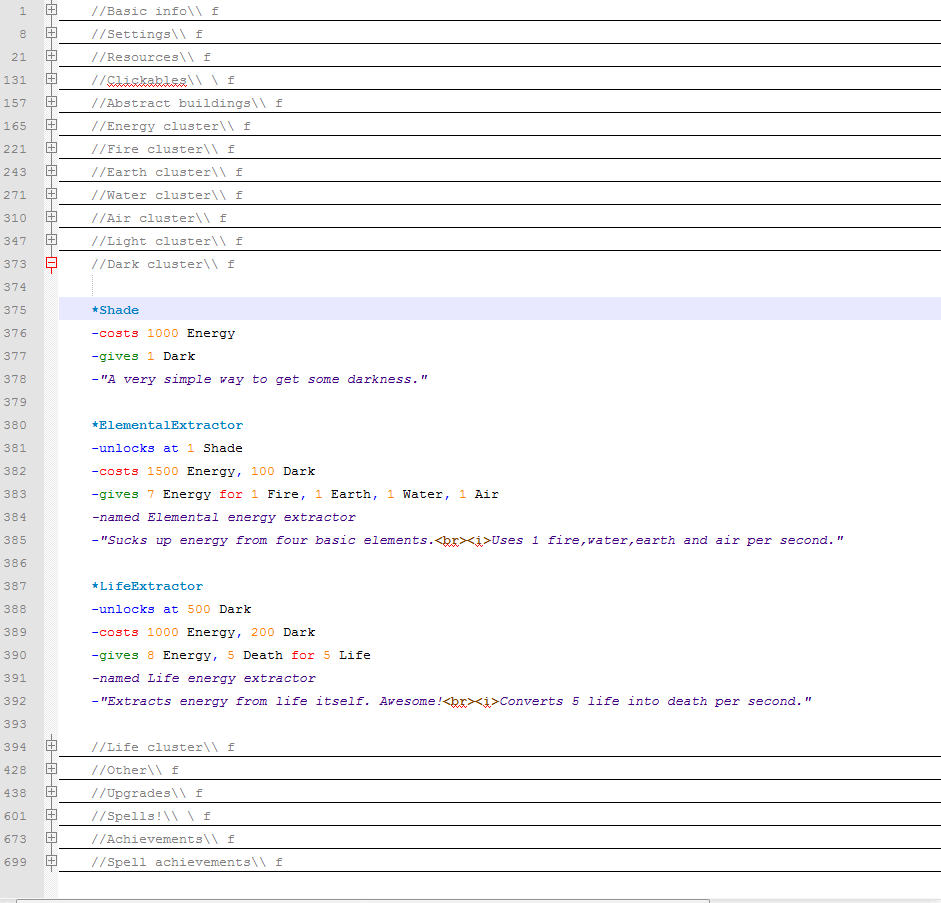 It has colors!
It has code folds!
It has code folds inside of code folds too!
Ctrl+Click -> Go to building/resource/etc!
It can quickly list everything that produces, consumes or costs something!
So yeah, I've made quite a few tricks to help myself in making IGM stuff that I've started calling it an IDE. Now I've finally made a guide on how to set those things up. I hope that's useful.
First, get:
Notepad++
and
this
color package for colors and folds
Autohotkey
and
this
script for the rest
For just the coloring and code folds:
1. Install and launch Notepad++
2. Go to Language->Define your language->Import->Select the first file you've downloaded
3. You should see "Import successful" message. Quit and launch Notepad++ again.
4. To use the IGM coloring in any file, select Language->IGM.
5. To begin a new fold type this, in a separate line:
//Some name\ f
(note the space between \ and f)
6. To end a fold:
//Actually, you don't need any text here\\
7. The end and begin a new fold (I use mostly this):
//Name of new section\\ f
(note the space between \ and f)
For scripts:
0. DISCLAIMER: this is intended for Windows systems. It probably works on other OSes too, but I have no way to test it.
1. Install AutoHotkey
2. Launch the second file you've downloaded by double-clicking it
3. In Notepad++, press Ctrl+F
4. Make sure
those
two options are selected.
5. It's ready to use! Use Ctrl+Left Mouse Button to jump to definition of a building/upgrade/etc. After turning off NumLock, use Ctrl+1 (on Numpad) to list all instances producing a resource, Ctrl+2 for consuming and Ctrl+3 for costs.
EDIT: 6. To use the results, double-click on each of them to jump to this line (couldn't get it to display the building names though, this may happen in the future).
7. If you don't like those shortcuts, feel free to edit the script file (using Notepad++, for example).
This
should help.
8. When turning on your computer just launch the script again. If you don't want the script running in your background, kill "AutoHotkey" process in your task manager (though it should also appear on the standard list of programs running in the background too).
Have fun and let me know if it works for you ;)